Brian McCorkle is a composer, performer, and digital artist. He was the co-Director of the Panoply Performance Laboratory (PPL) for over a decade and a founding member of Varispeed Collective. About McCorkle's music the Village Voice says "my melting ears are still recovering" and his collaborations with Varispeed have been praised by the New York Times for their ability "to unleash latent potential" and were called "impressive" - Posture Magazine calls his voice "chillingly resonant." He performs regularly as a multi-instrumentalist and vocalist, flouting genre while drawing from decades of experience as a professional musician in a wide array of contexts while also making electronic instruments combined with sculpture. McCorkle's work with PPL has been described by the Guardian as "working to distill a bevy of sophisticated ideas into word and action."
McCorkle has received residencies from Yaddo, Harvestworks, IDEA New Rochelle, Three Phase, LaGuardia Performing Arts Center, The Chance House, Independent Resident Theater, The Brick Theater, Brooklyn Arts Exchange, Momenta Art, Cora Dance, LMCC Swing Space, chashama, MARSH, Gruentaler9, and has performed at the Venice Biennale, Adelaide Festival, American Repertory Theater, the Guggenheim, the Kitchen, the Whitney, Issue Project Room, Danspace, Roulette, the Stone, PERFORMA, Darling Founderie, School of the Museum of Fine Arts, School of Visual Arts, many types of spaces across North America, Europe, and Australia.
In addition to 8 operas and hundreds of smaller performances with PPL and 5 epic works of durational music making with Varispeed Collective (including Perfect Lives, which is still touring), McCorkle has worked with Robert Ashley (who wrote a part in the opera CRASH for him), Joan La Barbara, thingNY, Colin Self and Raul de Nieves, Wang Jianwei, Warren Neidich, Banana Bag and Bodice, Thylias Moss, and others across disciplines.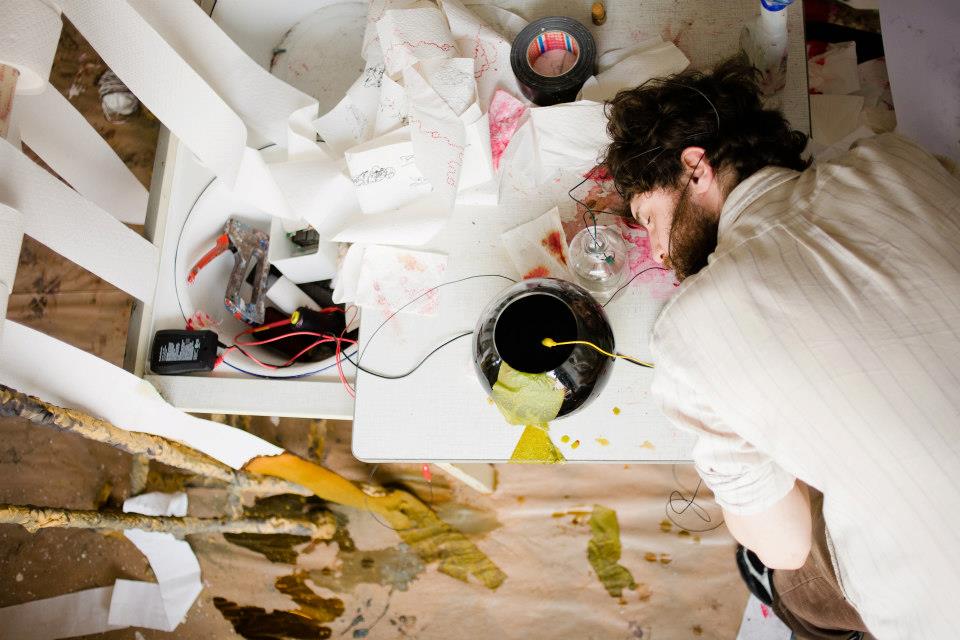 photo by Marco Berardi, installation by Ali Dolanbay