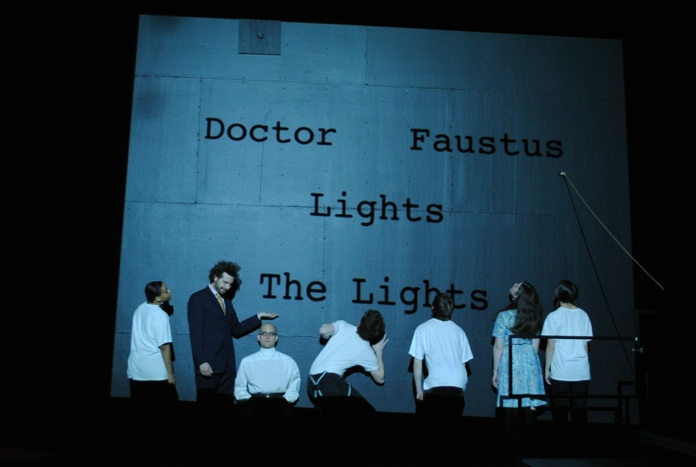 Dr Faustus Lights the Lights
performed at: Columbia University
collaborators: Ashley Kelly-Tata, Enthuse Theater, Gertrude Stein
Dr Faustus Lights the Lights
"Dr Faustus Lights the Lights" was written by Gertrude Stein in 1938 and has been put on by composers and enterprising theater and opera makers ever since. This productions was for Ashley Kelly-Tata and put on at Columbia University in 2011.
by Gertrude Stein
An Enthuse Theater & Co. Production
Directed by Ashley Kelly Tata Original Music by Brian McCorkle Choreographed by Leeanne M. G-Bowley Lighting Design by Amith Chandrashakar Costume Design by Kristen Kopp Dramaturgy by Dave Carter Projection Design by Ashley Kelly Tata Stage Managed by Ellen Mezzera
With (pictured above from left): Cherish Duke Sunrise Marks Andrew Belcher Kevin Mannering Ryan Rinkel Lea McKenna-Garcia Chelsea D'Aprile
Gertrude Stein's Doctor Faustus Lights the Lights marks a step toward a more defined performance aesthetic of an Enthuse production. With a longer rehearsal period, the company devoted time to the discovery and development of a gestural vocabulary that was specific to this performance and told the story (not a narrative, but a story) with the bodies of these performers for the specific moment of the occurrence of this performance. It was also a more devoted attempt to allow the different design elements of the piece speak to each other if, not necessarily in harmony, in a dialectic so that the use of the voice had a specific relationship to the gestural vocabulary which had a specific relationship to ensemble movement which had a specific relationship to the text as a physical manifestation as such in the space. The whimsy of the writing also allowed us to abandon preconceived notions of what the performance of such a sacred piece of experimental theater should be. The desire to create work of respectful irreverence was embodied and realized here.
Here's a small excerpt recorded for the production:
../assets/mp3s/theresheisfull.mp3?autoplay=0&loop=0&controls=1