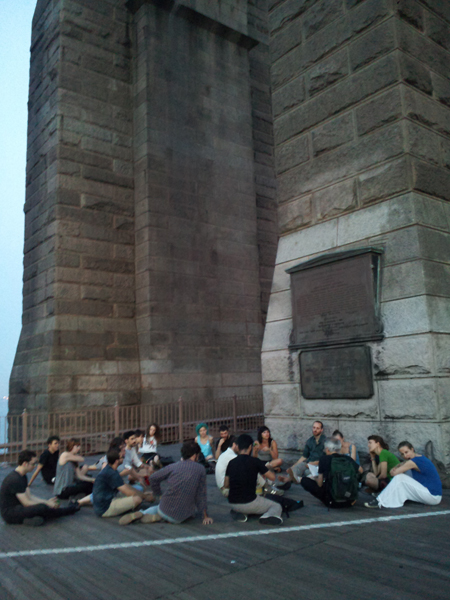 Empty Words
performed at: Roulette, The Brooklyn Bridge, Exapno, The Stone
collaborators: Varispeed Collective, John Cage
Empty Words
In 2012, Varispeed performed the rarely seen John Cage mediation on speech Empty Words, initially as a 12-hour overnight moving performance and subsequently in excerpt at The Stone in September.
Following their acclaimed reimagining of Robert Ashley's Perfect Lives as Perfect Lives Manhattan, Varispeed tackle John Cage's epic, rarely performed Empty Words. This overnight realization on Cage's centennial is a meditation on the voice's power to transform language into music. Varispeed's new arrangement will lead audiences on a 12-hour journey of sound, from an ensemble of electronically manipulated and mutated song in the concert hall of Roulette to the noise of naked voices on the Brooklyn Bridge at dawn.
Written in the early 70's, Empty Words stands as an epic culmination of Cage's exploration of the "demilitar- ization" of syntax and the voice's power to evacuate meaning and create music. Using Thoreau's journals as his source text, Cage employed chance procedures to remove all syntax from the original, creating four separate movements through which the level of textual abstraction grows.
Part One begins in the concert space of Roulette, employing multiple performers and theatrics to employ the musical extremes of language. The performance then moves to the new music community space Exapno, where Varispeed transform Part Two's words, syllables, and letters into new spatial arrangements. Peppered with food (and perhaps a nap), Part Three employs participatory games and a solo lecture. In conclusion, listeners will become performers on a communal sound walk through Downtown Brooklyn across the Brooklyn Bridge at sunrise, vocalizing the letters of Part Four in equal partnership with the surrounding urban "silence."
Here's an excerpt from Part One, released on Gold Bolus Recordings: