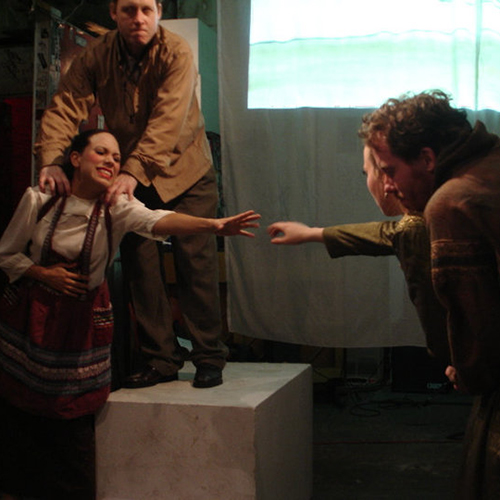 The Last Dreams of Helene Weigel OR How to Get Rid of The Feminism Once and For All
performed at: Surreal Estate, chashama, Post TV
collaborators: Panoply Performance Laboratory, Esther Neff
The Last Dreams of Helene Weigel OR How to Get Rid of The Feminism Once and For All
Libretto, Direction, video and projections by Esther Neff Music and Music Direction by Brian McCorkle Costumes by Lena Sands Set and Prop Design and construction by Elliott Jenetopolous Performed by Andrea Suarez, Tom Swirly, Katie Johnston, Matthew Stephen Smith, Jessica Bathurst, Loren Barnese, Kate Garfield, Matthew Gonzalez, Michael Demsyn-Hanf, Jason Anastasoff, and others.
Here is a recording from PPL live on POST TV in 2010:
../assets/mp3s/heleneWeigel.mp3?autoplay=0&loop=0&controls=1
The Last Dreams of Helene Weigel or How to Get Rid of The Feminism Once and For All is an experimental, documentary opera following Helene Weigel, Bertolt Brecht's wife and "the greatest actress who ever lived" as she snaps the neck of a wild swan, escapes robbery by door-to-door linoleum salesmen, and makes covert visits in her dreams to the nunnery cell of Héloîse d' Argenteuil, the 12th Century philosopher best known in light of her lover Abelard's castration. Helene is also haunted by Sor Juana Inez de la Cruz, the self-proclaimed "worst woman in the world" (also played by Andrea Suarez).
Formed through interviews with women who self-identify as such, we use apocryphal stories of these historical women as detailed examples of female constructions of self. PPL asks; is it true that women conceive themselves as a pattern of interconnections? Is "construction of self" a concept constructed by a male-centric philosophy of being? How have women felt about being women? How can one woman combat her own representation of every woman? What are the common experiences of 'women'? What elements comprise the social performance of "womanhood" and how/why was/is this role constructed?